CircuitGizmos provides products for sale that are designed and produced by the creative minds at CircuitGizmos, USBmicro, Amber Waves Electronics, and other fun sources of clever engineering.
Here you can purchase the USBmicro U401 and U421 USB interface that has support for SPI, LCD, 1-wire, stepper motor control, input, and output.
CircuitGizmos sells the Maximite Computer in the form of the CGMMSTICK1 that you can add as a module to a circuit board or you can use it with a solderless breadboard. The Maximite runs BASIC and supports a display on VGA. A keyboard can interface to the Maximite as well as I2C, SPI, and serial devices.
CircuitGizmos also sells the unique USBPIR USB motion detection module and home automation and security software made to work with these devices. Other CircuitGizmo items include the DS1822 temperature sensor, relays, LEDs, resistors, project boxes, small screw terminals…
Shield to Play MP3/WAV files from SD/USB
CGMP3SHIELD1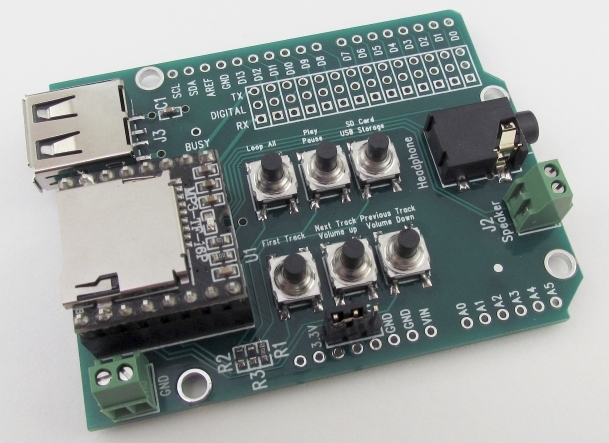 The CGMP3SHIELD has a 3 Watt speaker driver and stereo headphone output to play MP3 or WAV files from either a micro SD card or from a USB flash drive. Used with a CGMICROBOARD it is simple and quick to make an MP3 player.
You don't need to implement Host USB or SD file system FAT routines to make use of this shield - all of that is built in. This MP3 Shield doesn't need to bog down the microcontroller with constant data transfers. Once you tell a file to play it runs by itself.

Product Features

Plays MP3 and WAV files

Plays files from up to 32 GB USB flash drive
Plays files from up to 32 GB SD flash card
Serial interface, 9600 8N1 at TTL level
Play from root directory or from one level of directory/folder
Headphone level output, 3W speaker drive
Buttons for USB/SD selection, Play, Looping, Volume, Track Select
Software volume selection
Normal, Pop, Rock, Jazz, Classical, Bass EQ selection
Selection for different ports for Tx/Rx connections
Screw terminal for speaker selection
Runs on 3.3V or 5V <15mA
Can be paired with a CGMICROBOARD:

Below is the CGMP3SHIELD mounted on a CGMICROBOARD. The board had an SD card and a USB flash drive inserted. Jumpers for Tx and Rx are in place for the CGMICROBOARD to control the CGMP3SHIELD via serial commands. A pair of headphones is inserted into the headphone jack.

Below are the CGMICROBOARD program routines:

' Open serial port

OPEN "COM1:9600" AS #1
CGMP3.SelectSD

PAUSE 500

CGMP3.Rndm

END

' Play Next song

SUB CGMP3.PlayNext
CGMP3.Cmd(&h01, &h0000)
END SUB
' Play Previous song
SUB CGMP3.PlayPrevious
CGMP3.Cmd(&h02, &h0000)
END SUB
' Play indexed song in the root directory
' sel - index to song 1-2999
SUB CGMP3.PlayRootDirSong(sel AS INTEGER)
CGMP3.Cmd(&h03, sel)
END SUB
' Increase Volume
SUB CGMP3.VolUp
CGMP3.Cmd(&h04, &h0000)
END SUB
' Decrease Volume
SUB CGMP3.VolDn
CGMP3.Cmd(&h05, &h0000)
END SUB
' Specify volume 0 to 30
SUB CGMP3.Volume(vol AS INTEGER)
CGMP3.Cmd(&h06, vol)
END SUB
' Specify EQ
' 0 - Normal
' 1 - Pop
' 2 - Rock
' 3 - Jazz
' 4 - Classical
' 5 - Bass
SUB CGMP3.EQ(eq AS INTEGER)
CGMP3.Cmd(&h07, eq)
END SUB
' Repeat specified Track
' track - index to song 1-2999
SUB CGMP3.RepeatTrack(track AS INTEGER)
CGMP3.Cmd(&h08, track)
END SUB
' Select USB for playback
SUB CGMP3.SelectUSB
CGMP3.Cmd(&h09, &h01)
END SUB
' Select SD for playback
SUB CGMP3.SelectSD
CGMP3.Cmd(&h09, &h02)
END SUB
' Reset
SUB CGMP3.Reset
CGMP3.Cmd(&h0C, &h02)
END SUB
' Play
SUB CGMP3.Play
CGMP3.Cmd(&h0D, &h02)
END SUB
' Pause
SUB CGMP3.Pause
CGMP3.Cmd(&h0E, &h02)
END SUB
' Play specified Track in Folder
' fold - index to folder 1-99
' track - index to song 1-255
SUB CGMP3.PlayFoldTrack(fold AS INTEGER, track AS INTEGER)
CGMP3.Cmd(&h0F, (fold*256)+track)
END SUB
' Stop
SUB CGMP3.Stop
CGMP3.Cmd(&h16, &h00)
END SUB
' Random Play
SUB CGMP3.Rndm
CGMP3.Cmd(&h18, &h00)
END SUB
SUB CGMP3.Cmd(commd AS INTEGER, dat AS INTEGER)

LOCAL INTEGER dath
LOCAL INTEGER datl
dath = dat >> 8
datl = dat AND &hFF
PRINT #1,CHR$(&h7E);CHR$(&hFF);CHR$(&h06);CHR$(commd);CHR$(&h00);CHR$(dath);CHR$(datl);CHR$(&hEF);
END SUB
$29.99 (USDollar)
In stock