CircuitGizmos provides products for sale that are designed and produced by the creative minds at CircuitGizmos, USBmicro, Amber Waves Electronics, and other fun sources of clever engineering.
Here you can purchase the USBmicro U401 and U421 USB interface that has support for SPI, LCD, 1-wire, stepper motor control, input, and output.
CircuitGizmos sells the Maximite Computer in the form of the CGMMSTICK1 that you can add as a module to a circuit board or you can use it with a solderless breadboard. The Maximite runs BASIC and supports a display on VGA. A keyboard can interface to the Maximite as well as I2C, SPI, and serial devices.
CircuitGizmos also sells the unique USBPIR USB motion detection module and home automation and security software made to work with these devices. Other CircuitGizmo items include the DS1822 temperature sensor, relays, LEDs, resistors, project boxes, small screw terminals…
USB to RS485/RS422 Interface
CGAWEUSB485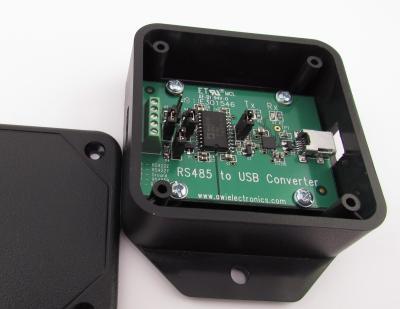 Interface isolated RS485/RS422 devices directly to your PC via USB.
Amber Waves Electronics (AWE) designed this isolated USB to RS485/RS422 converter around the versatile CP2104 serial USB engine. The signal lines and the ground lines are isolated between the USB and RS485/RS422 sides of this device.

The converter and the isolation circuitry is powered by the USB port - no external supply needed.

The converter board is available with and without an enclosure.

The driver enable control is done automatically by the CP2104 - there is no need for jumpers for this based on the communication rate. Two separate LEDs indicate transmission and reception of data packets.

The RS485/RS422 interface connection is a small 5-terminal screw header. This allows for connection to communication cable as heavy as 18 gauge stranded. Supports wiring topography for RS485/RS422. Receive jumper allows for optional reception of transmitted packet.

On-board jumpers allow for selection of RS485 (2 wire half duplex) or RS422 (4-wire full duplex) and line termination for either driver type.

USB 2.0. USB 'mini-B' connector. Driver support for Windows 2000, Windows XP, Windows Vista, Windows 7, Mac, and Linux.

For RS485 operation:
- J3 Installed optionally (bus termination)
- J4 Removed
- J5 Installed receive when not sending
- J6 Installed driver/receiver on line
- J7 Installed driver/receiver on line
For RS422 operation:
- J3 Installed optionally (bus termination)
- J4 Installed optionally (bus termination)
- J5 Removed
- J6 Removed
- J7 Removed
Screw terminal pinout:

- 5 RS422 Z
- 4 RS422 Y
- 3 RS485 A
- 2 RS485 B
- 1 Isolated ground
Note that the pinout above is correct and the pinout on the board photos that show jumper placements is NOT correct.

LEDs:

- Tx - red
- Rx - green
$39.99 (USDollar)
In stock