CircuitGizmos provides products for sale that are designed and produced by the creative minds at CircuitGizmos, USBmicro, Amber Waves Electronics, and other fun sources of clever engineering.
Here you can purchase the USBmicro U401 and U421 USB interface that has support for SPI, LCD, 1-wire, stepper motor control, input, and output.
CircuitGizmos sells the Maximite Computer in the form of the CGMMSTICK1 that you can add as a module to a circuit board or you can use it with a solderless breadboard. The Maximite runs BASIC and supports a display on VGA. A keyboard can interface to the Maximite as well as I2C, SPI, and serial devices.
CircuitGizmos also sells the unique USBPIR USB motion detection module and home automation and security software made to work with these devices. Other CircuitGizmo items include the DS1822 temperature sensor, relays, LEDs, resistors, project boxes, small screw terminals…
VGA/keyboard/composite adaptor for CGMMSTICK1
CGVGAKBD1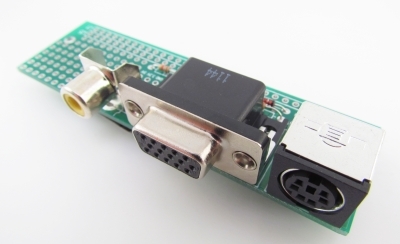 The CGVGAKBD1 lets you add a VGA connector, a keyboard connector and a composite video connector to the CGMMSTICK1 Maximite computer. The CGVGAKBD1 also has a small "sea of holes" area for prototyping.
Pin outs for J1:

1 -
2 - VIDEO1
3 - VIDEO2
4 -
5 - VSYNC
6 - KBDDATA
7 - +5V
8 - KBDCLK
9 - GROUND
10 - HSYNC
11 -
12 -
13 -
14 -
15 -
16 -
17 -
18 -
19 -
20 -
21 -
22 -
23 -
24 -
25 -
26 -
27 -
28 -
29 -
30 -
$12.99 (USDollar)
In stock