PIR Motion Detector Alarm Board
CGALARM1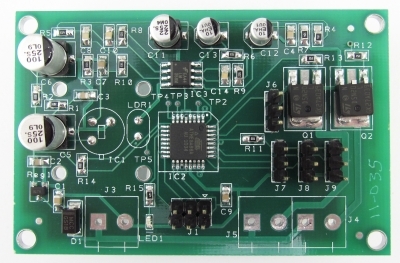 Features:
9-12VDC supply input
ATmega88 (8k ROM)
2 alarm outputs (switch 12V at 1A)
Sensitive PIR input
Light level input
On-board LED
2x3 programming header
Serial I/O
3 spare I/O lines
The CGALARM1 is a super sensitive PIR (Passive InfraRed) people or animal detector. The microcontroller is an ATmega88 with default firmware in it, but if you wish, the "Arduino" development environment (or any other AVR compiler) can be used to make your own custom code.

Default firmware for the board will flash the on-board LED a few times on power up. The board will wait after power up for 30 seconds before registering motion as an alarm. When motion is detected, the J5 output blips on/off with the motion. The J4 output latches on for 10 seconds. After the alarm happens, the default firmware keeps J4 off for a full minute.

From the firmware perspective light level (LDR input on PC1) and motion (PIR input on PC0) are read as analog values. J4 output is on PD3, J5 output is on PD2, and the on-board LED is controlled through PD7.

9-12VDC operates this board. On J3 the left (square) connection is positive, the right (round) connection is power supply ground. For alarm outputs J4 and J5 the left (square) connection is again positive, and the right (round) is ground.

J7, J8, and J9 are spare connections to PC2, PC3, and PC4 respectively. On J7, J8, and J9 the lower pin is ground (blue in pic below), the center is the PCx connection, and the top pin is 5V. For J6 the top connection is serial Tx ("TTL" level), middle is ground, bottom is Rx.

Below you can see the sensors (PIR above LDR) on the face of the board. The board should be mounted in this vertical orientation.

In this picture the dome covers up the two light sensors.

The component side of the CGALARM1:

Connector/header layout for the board.

Location of power and alarm contacts.