TFT Backpack+ PCB (Peter Mather)
CGMATHERBACK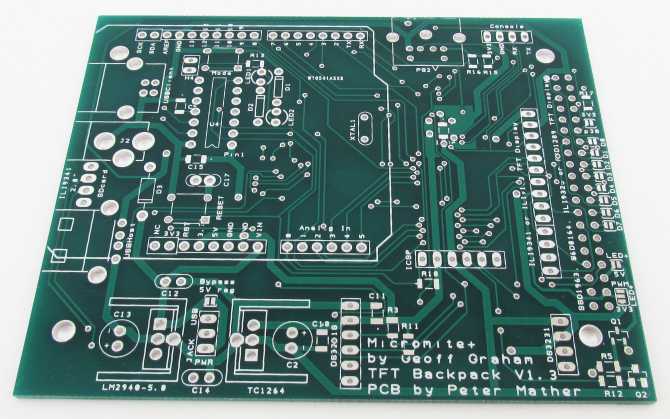 This PCB is for a 64-pin MX470 Micromite+. This was designed by Peter Mather. The PCB can be mounted as a backpack for the following displays with the display mounted to the underside of the board:
ILI9341 (SPI)
ILI9163 (SPI)
SSD1289
SSD1963 (any size)
S6D0164

The PCB design includes an Arduino header which utilizes all of the processor pins not already allocated to the TFT displays, touch, SD, Com1 and Com2, PS2 keyboard.

A PIC16F1455 can be used to provide a USB console on a type-B connector which frees the MX470's USB conection to be used in host mode (type-A connector) for a keyboard and/or mouse if/when host mode becomes available.

There is also room for a PS2 DIN connector allowing direct connection of a keyboard. There is a header for a DS3231 RTC module to connect laying flat on the board.

The layout fully respects the Arduino UNO pin allocation for SPI and I2C and also includes PWM1A and 1B, Com1, and Com2 pins.

The design allows for dual 5V and 3.3 V supplies are provided and optionally the USB client port can supply the power (selected via a link)

The mounting holes are spaced to allow a 4.3" SSD1963 display to be fixed securely.

The LED pin to relevant displays can be selected between 5V, 3.3V or a PWM'd 5V supply (PWM2B).

All surface mount resistors and capacitors are 1206 size; easy to solder.
Peter's Notes: TFT Backpack V1.1
Power is jumper selectable between USB and the standard power connector.

Displays plug into the back of the card on the same side as the Micromite processor.
The 40-pin header makes the display, touch and SD connections for various displays and has been tested with SSD1963, ILI9325, S6D0164 and SSD1289.
The spacing of the headers allow a 2.8" ILI9341 display to be plugged in so that both the display/touch and the SD connections are connected. Smaller displays can be used but the SD card connections will then need to be patch wired. ILI9163 displays can also be used, in this case plug the display into the ILI9341 connector so that it completely overlaps the Micromite processor.
Backlight for displays can be controlled by PWM 2A (can be used but not needed for the SSD1963).
I/O pins are made available via the Arduino header which conforms to the Arduino UNO pinout for UART, SPI, I2C, and analogue connections. The pinout used includes lots of additional functionality on the ARDUINO pins, extra analogue channels, comm ports, PWM. Consult the Micromite+ manual for details of the capability of the pins used.
A standard PS2 keyboard connector is provided making it easy to turn into a standalone computer with no additional wiring.
Headers are provided to plug in a standard DS3231 real-time clock module which works on I2C.

Building
Other than the Micromite+ itself and two SOT23 transistors all parts are either though hole or 1206 size so easy to solder. Lots of parts are optional depending on how you use the board. Consult the circuit diagram to see what can be left off for your application.
Headers and shorting links
PWR: Selects between using the jack input or the USB supply to the PIC16F1455 as the power source for the board.
H4: Makes pins 9 and 10 of PIC16F1455 available
Console: Direct connections to console ports on MM+, DO NOT use if PIC16F1455 installed
DS3231S and DS3231: Install DS3231 module with battery away from PCB for correct pinout
USBv (underside of board) : Connects PIN34 (VBus) to 5V to allow use as USB slave device. C21 not required if link is made. Leave open and install C21 if USB is being used as a host.
Bypass 5V reg: Connects the incoming supply directly to the TC1264. Make the link when using an external 5V supply. NOTE: the supply voltage will be connected to the Arduino 5V pin, the PS2 connector, and the LED+ 5V pin. Do not use a supply greater than 5V when the bypass is in place
RD: make connection to 3V3 to tie RD on parallel TFTs high: make connection to p30 to allow RD to be controlled by Micromite pin 30
LED+ (2-way): make connection to 3V3 to connect TFT pin LED to 3.3V: make connection to PWM to use PWM or 5V. Note if LED+(2-way) is connected to 3V3 then Q1, Q2, R5, and R12 are not required.
LED+ (1-way): make connection to hard-wire pin LED to 5V if PWM connection is made on the 2-way LED+ link. Note if LED+(2-way) is connected to PWM and LED+(1-way) is made then Q1, Q2, R5, and R12 are not required. Leave open to control brightness using PWM 2A
D0-D7: make to connect LCD data pins to D8-D15 as well as D0 to D7: Used for ILI9325 and S6D0164 displays. Do not make for SSD1963 or SSD1289
Pinout for the Arduino connections is given on the bottom of the board
Pinout for ILI9341 D/C=27, RESET=28, CS=24 (also given on the bottom of the board)
Pinout for SD-CS=52 (also given on the bottom of the board)
Pinout for Touch CS=51 and IRQ=33 (also given on the bottom of the board)
Pinout for SSD_RD=30, used if link RD is connected to p30 (also given on the bottom of the board)
Bill of materials
| | | | | |
| --- | --- | --- | --- | --- |
| Ref Name | Qty | Component | Value | RS Code |
| Q1 | 1 | Mosfet P-channel SMD | SI2333CDS-T1-GE3 | 710-3260 |
| Q2 | 1 | NPN transistor SMD | BC817-40 | 690-0076 |
| C1 | 1 | 1206 SMD Cap | 0.1uF | 264-4179 |
| C10 | 1 | 1206 SMD Cap | 0.1uF | 264-4179 |
| C11 | 1 | 1206 SMD Cap | 0.1uF | 264-4179 |
| C3 | 1 | 1206 SMD Cap | 0.1uF | 264-4179 |
| C15 | 1 | 1206 SMD Cap | 0.1uF | 264-4179 |
| C18 | 1 | 1206 SMD Cap | 0.1uF | 264-4179 |
| C21 | 1 | 1206 SMD Cap | 0.1uF | 264-4179 |
| C5 | 1 | 1206 SMD Cap | 0.47uF | 766-1107 |
| C16 | 1 | 1206 SMD Cap | 10uF | 723-6562 |
| C19 | 1 | 1206 SMD Cap | 22pF | 651-9932P |
| C20 | 1 | 1206 SMD Cap | 22pF | 651-9932P |
| C12 | 1 | Capacitor (ceramic) | 1uF | 538-1310 |
| C14 | 1 | Capacitor (ceramic) | 1uF | 538-1310 |
| C17 | 1 | Capacitor (ceramic) | 1uF | 538-1310 |
| C2 | 1 | Capacitor Electrolytic | 100uF | 449-0968 |
| C13 | 1 | Capacitor Electrolytic | 100uF | 449-0968 |
| KBD | 1 | Connector pcb r/a 6 way Mini-DIN | | 710-0441 |
| RESET | 1 | PCB switch | | 479-1429 |
| Mode | 1 | PCB Switch | | 479-1429 |
| R3 | 1 | 1206 SMD Resistor | 10K | 740-9081 |
| R11 | 1 | 1206 SMD Resistor | 10K | 740-9081 |
| R18 | 1 | 1206 SMD Resistor | 10K | 740-9081 |
| R5 | 1 | 1206 SMD Resistor | 10K | 740-9081 |
| R15 | 1 | 1206 SMD Resistor | 10K | 740-9081 |
| R16 | 1 | 1206 SMD Resistor | 10K | 740-9081 |
| R17 | 1 | 1206 SMD Resistor | 10K | |
| R12 | 1 | 1206 SMD Resistor | 330R | 223-2186 |
| R13 | 1 | 1206 SMD Resistor | 330R | 223-2186 |
| D3 | 1 | Diode 1N4004 | 1N4007 | 628-9546 |
| D1 | 1 | DIODE1N4148 | 1N4148 | 544-3480 |
| D2 | 1 | DIODE1N4148 | 1N4148 | 544-3480 |
| LED2 | 1 | LED3MM | 3mm Green | 228-4985 |
| LED1 | 1 | LED3MM | 3mm Red | 228-5001 |
| U2 | 1 | PIC32MX470F512H-I/PT | | 829-0573P |
| U4 | 1 | PIC16F1455-I/P | | 786-3943P |
| J2 | 1 | POWER JACK | | 448-382 |
| USBHost | 1 | USB-A through hole | | 706-0208 |
| USBClient | 1 | USB-B through hole | | 515-1967 |
| IC2 | 1 | LM2940-5.0 | | 533-5632 |
| U3 | 1 | TC1264 | | 774-7655 |
| XTAL1 | 1 | XTAL | 20MHz | 814-9456 |
| Arduino | 2 | Header Female (8 pole) | | 765-5698 |
| Arduino | 1 | Header Female (10 pole) | | 765-5745 |
| Arduino | 1 | Header Female (6 pole) | | 765-5672 |
| TFT | 1 | Header Female (2x20 pole) | | 765-5815 |
| H4 | 1 | Header Male (2 pole) | | 681-2972 |
| PWR | 1 | Header Male (3 pole) | | 681-2975 |
| DS3231 | 1 | Header Female (4 pole) | | 765-5632 |
| Console | 1 | Header Male (4 pole) | | 681-2979 |
| ICSP | 1 | Header Male (6 pole) | | 681-2994 |
| DS3231S | 1 | Header Female (6 pole) | | 765-5672 |
| TFT2 | 1 | Header Female (14 pole) | | 765-5770 |
| Heatsink | 2 | TO220 Heatsink | | 712-4248 |