USB to RS485/RS422 Interface - no box
00000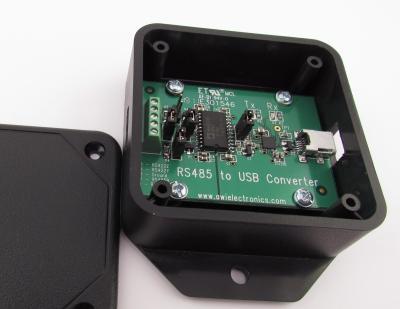 Interface isolated RS485/RS422 devices directly to your PC via USB.
Amber Waves Electronics (AWE) designed this isolated USB to RS485/RS422 converter around the versatile CP2104 serial USB engine. The signal lines and the ground lines are isolated between the USB and RS485/RS422 sides of this device.

The converter and the isolation circuitry is powered by the USB port - no external supply needed.

The converter board is available with and without an enclosure.

The driver enable control is done automatically by the CP2104 - there is no need for jumpers for this based on the communication rate. Two separate LEDs indicate transmission and reception of data packets.

The RS485/RS422 interface connection is a small 5-terminal screw header. This allows for connection to communication cable as heavy as 18 gauge stranded. Supports wiring topography for RS485/RS422. Receive jumper allows for optional reception of transmitted packet.

On-board jumpers allow for selection of RS485 (2 wire half duplex) or RS422 (4-wire full duplex) and line termination for either driver type.

USB 2.0. USB 'mini-B' connector. Driver support for Windows 2000, Windows XP, Windows Vista, Windows 7, Mac, and Linux.

For RS485 operation:
- J3 Installed optionally (bus termination)
- J4 Removed
- J5 Installed receive when not sending
- J6 Installed driver/receiver on line
- J7 Installed driver/receiver on line
For RS422 operation:
- J3 Installed optionally (bus termination)
- J4 Installed optionally (bus termination)
- J5 Removed
- J6 Removed
- J7 Removed
Screw terminal pinout:

- 5 RS422 Z
- 4 RS422 Y
- 3 RS485 A
- 2 RS485 B
- 1 Isolated ground
Note that the pinout above is correct and the pinout on the board photos that show jumper placements is NOT correct.

LEDs:

- Tx - red
- Rx - green
$34.99 (USDollar)
In stock